Complete Story

06/12/2012
Jim Trogdon leads on battlefield and at DOT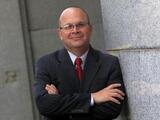 News and Observer, June 17, 2012
As second in command of both the state's National Guard force and its Department of Transportation, Maj. Gen. Jim Trogdon has little time for hobbies or jokes.
But he tells a great story, even if they all seem to have a lesson. Take, for example, the time he was heading up a road-building effort in Ecuador, watching with disgust as the locals laid down sidewalks 20 inches above the road. Then it rained for four days straight, sending water rushing through the streets that never reached the sidewalks.
"I thought 'These people do not know how to build roads or sidewalks,'" he says. "Then I thought, 'These people are geniuses!' The first lesson of leadership is to be observant, because there may be other perspectives that you don't know."
Colleagues say that power of observation has been key to Trogdon's success on the battlefield, where he earned a national reputation for developing new ways to sniff out roadside bombs while leading a passage-clearing brigade in Iraq. He earned a Bronze Star and a unit commendation for that 16-month tour. Last month, after more than 30 years with the guard, he assumed the rank of major general, earning a rare second star.
"It's a rarity, but him making major general is not surprising to anybody in North Carolina or the nation who knows him," says Maj. Frank W. Poovey of Charlotte, who served with Trogdon in Iraq. "His intelligence and the means he uses to asses situations, it's incomparable. He makes everybody around him better."
'Two steps ahead'
Trogdon, 49, grew up in Hope Mills. He played quarterback in high school and earned an athletic scholarship to East Carolina University. But he turned it down when the coach who recruited him, Pat Dye, was hired elsewhere.
Instead, Trogdon went to N.C. State University, where he retired his dreams of playing professional football in favor of an engineering career.
Trogdon says he always loved science and he found a group of like-minded souls at N.C. State, where he and his roommates would drink beer and discuss calculus problems. His HP41CV calculator was a constant companion, though he declined to use the belt mount that came with it.
"Everyone had one, and you needed it. But you knew not to carry it around on your belt buckle," he jokes.
He started out on track to be a chemical engineer. But he struggled through his chemistry classes and developed an interest in civil engineering, particularly transportation.
He had grown up when the state was making a huge push to pave its roads. He remembers getting stuck on muddy roads and eventually, his own street was paved. He was only 4 years old, but he was impressed with the access to the wider world that a simple hard surface offered his family.
"Transportation is about projects that improve people's lives by ensuring more mobility," he says. "It's not about building something like a building or a bridge, but about how a project assists the entire network."
He started at DOT in 1985 as an engineer, and later served as a transportation adviser at the General Assembly. He was named DOT's chief operating officer after his most recent deployment.
Former DOT board member Durwood Stephenson says Trogdon has excelled in managing both engineering projects and the people he deals with at DOT.
"He's low key, not showy," says Stephenson, a Smithfield businessman who met Trogdon when he was division leader for six counties, including Johnston. "But you don't have to be in the room with him long to realize he's two steps ahead of everyone there."
Stephenson also attended the pinning ceremony when Trogdon was given his second star last month, and he noted that he chose to wear fatigues instead of the formal attire for his rank.
Getting hard jobs
Trogdon enlisted in the guard as soon as he turned 18, and credits his military service with teaching him how to lead. He trained all through college, and was only 23 when he was first given responsibility for 35 soldiers and millions of dollars of equipment.
"The leadership skills you gain through the military, it's hard to replicate anywhere else," he says. "How many business owners would do that?"
He also served in Honduras, Italy, Moldova and along the U.S. border with Mexico. And he's been part of a huge shift in the role of the guard since the terrorist attacks of Sept. 11, 2001.
"When I was in South America, the guard was another arm of diplomacy," he says, noting that he was helping rebuild roads wiped out by earthquakes. "The guard has become much more relevant to our day-to-day national defense."
He embraced the increased responsibility – and the longer and more frequent deployments – rising up the ranks and broadening his view of the world. He recalls first landing in Kuwait, where the temperature was 132 degrees, the landscape nothing but endless sand.
"And then I saw a goat herder with 100 goats," he says. "And I thought these must be the toughest people in the world, because how does he survive, much less keep his goats alive?"
His brigade's job was to clear the roads of explosive devices, and he helped develop ways to attack the problem – what he called "left of boom," or before the devices were planted, that has since been widely studied and replicated.
He jokes that his mission in Iraq is nearly identical to his current mission at DOT – making sure people can get from place to place in the midst of a hostile situation, whether it's a war zone or the recent economic recession.
"The parallels are quite fascinating," he says. "You truly see the importance of what government brings because with such an obvious lack of government, you see what anarchy brings and you appreciate what responsible, good government can do."
At DOT, he has worked to transform an organization mired by outdated practices and hemmed in by budget constraints. Among his initiatives has been a focus on improving the way projects are prioritized, using data-driven numbers in concert with community wishes.
Lt. Col. Luke Burnett, who worked closely with Trogdon in Iraq and is the chief science officer of a biomedical company in civilian life, says neither of Trogdon's jobs are easy. But his impact on the state through both organizations is without match.
"General Trogdon gets the hard jobs, and there's a reason for that," Burnett says.